About Us

The Message Box Company
Hello - and thanks for stopping by!
We're Julie and Michael, proud creators of The Message Box Company.

For a long time, we harboured vague ideas about working for ourselves, escaping the 9 to 5, the daily commute and all the other stuff that comes with a regular job.
We're not unusual. We know many others have felt the same – and we know, too, that often the 'escape' remains nothing more than a wish, an unfulfilled dream.
So, after years of thinking about it, we decided to take the plunge - and we set up our company at the exact moment the world went into a COVID-19 pandemic spin. Great timing eh?
What we do is make a wide range of small wooden jigsaws. Nothing unusual in that we hear you say. Perhaps - but our jigsaws are a bit special.
Our Message Box jigsaws are made up of just 25 pieces – but it's what they deliver to the lucky recipients that makes them really stand out.
Show them how much you care: make it personal
Each jigsaw becomes a unique and special message sent by you to family, friends and loved ones.
It's a new and different way of staying in touch in these strange times; a lovely way to show how much you care.
Uniquely yours – and theirs
Simply select a design from the hundreds available in our Made to Measure jigsaw range and tell us the message you want to appear on the puzzle. Then, just tell us who it's going to – and we'll do the rest!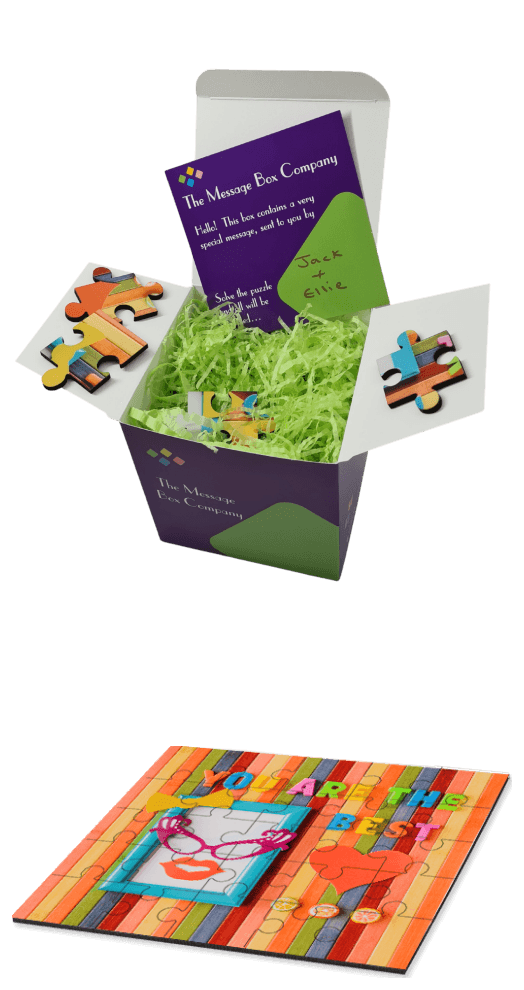 First, we make your puzzle, complete with its message. Then, we place it in a gift box, add a note to tell them that it has come from you - and finally, we send it directly to them for you.
Short on time - or stuck for inspiration?
No problem: we're here to help with that.
Our Off the Shelf jigsaw range has loads of designs for all occasions with messages already applied.
Simply choose your design, tell us who it's going to and it's job done!

Intrigue, engage and delight
At the other end when they open the box there's no picture or guide; no clue to the contents.
That's part of the fun; your loved ones have to figure it out and enjoy the experience as your special message is revealed.
With just 25 pieces to put together, the time it takes to complete each puzzle is just about right.
It's enough to intrigue, to engage – and then delight.
A family affair
We're not big; we're a proper family firm and proud of it.
The people who create your special message jigsaws? That's us.
The people who pack everything and post out? Yes – that's us, too.
The people who answer your emails and phone calls? You guessed it: us again.
Get in touch
We love hearing from you, so if you have a comment, query or suggestion, you can use our contact form, send an email to info@themessagebox.co.uk or call us on 01670 351708
If we don't answer immediately, it'll be because we're busy making up orders – but leave us a message and we'll always get back to you.
We are based in Blyth in the beautiful county of Northumberland – but please be aware that, although we'd like to meet our customers, we are a completely online business with no shop or showroom.
We love what we do – and we hope you and the special people in your lives will love it too!